King Arthur's story was not just his alone. In this fantastical retelling of the Arthurian legend we have grown to love, I bring you my take on what really happened... according to me :)
If you're looking for a short read, this is not the series for you. The characters are complex, the plot is packed, and there's dark and light magic at every turn.
But if you want a satisfying read with a strong heroine that can hold her own, snarky gods and manipulating guardians, romance galore and tortured heroes...
Then welcome to the New Camelot.
​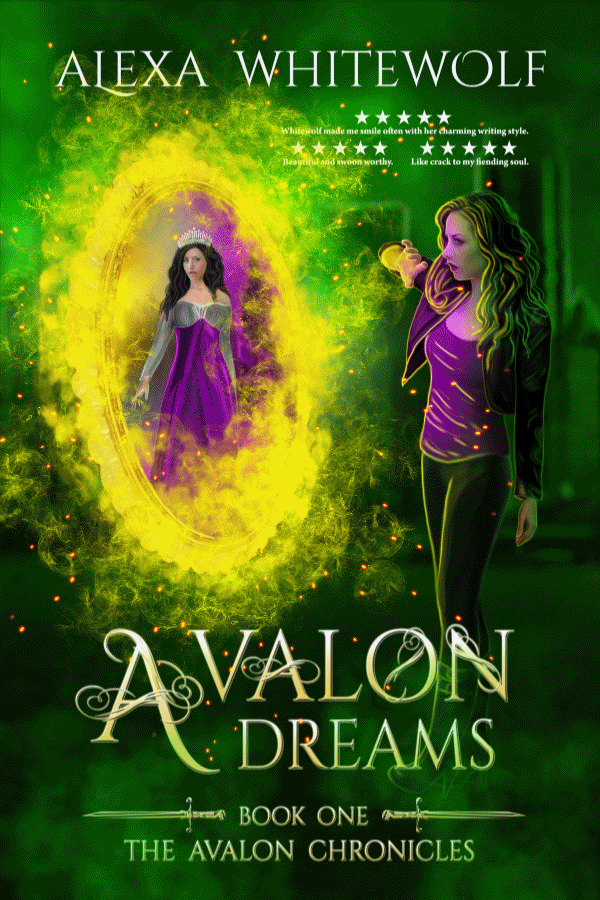 Praise for Book I:
Avalon Dreams
"The chemistry with the romance was spot on, and I loved the characters!!" - LiteraryDust Blog
"Alexa Whitewolf has turned over every detail and blended them into an atmosphere that comes to life (...) Mystery, dark magic and brilliant characters from both the past and present come to life in a wonderful fantasy that was written to be savored and lived within." - TomeTender Blog
"Not only was the writing style engaging, but the different settings were described with such unique voices that I was able to feel and visualize both and love them equally." EtherealPages Blog
Praise for Book II:
Avalon Wishes
"Alexa Whitewolf has created her own magic that pours out from each page. Often dark, the stories of Merlin, Morganna and Arthur, as well as that of the Lady of the Lake and Mordred come alive" - TomeTender Blog
​
"If you enjoy fantasy, well developed complex characters, fairy tales and legends, romance, this IS the series for you" - Nikki Leclair, author of Haunting Me series
​
"The author seriously knows how to make swoon worthy scenes without making them cheesy or too ridiculous. It's very awwwww yet wow! So, pretty much you get magic, backstabbing, love, tears and awesomeness!" - LiteraryDust Blog
Praise for Book III:
Avalon Nightmares
​
"Avalon Nightmares is full of turmoil, heartbreak, joy and pain and it won't all belong to Vivienne and Sebastian. (...) Intense, detailed, and coming at you from all angles, the magic within these characters are surpassed only by the magic of Ms. Whitewolf's writing! " - TomeTender Blog
​
"(...) written with such raw emotion sometimes you yourself felt as if you where the main characters themselves. " - Nikki Leclair, author of Haunting Me series
​
"(...) there's plenty of swoony romance, but also a great story along the way. Plus, the whole Merlin type theme has been freaking amazing! The writing sucks you in right away and doesn't let go until the very end." - LiteraryDust Blog
Atrox:
The final conclusion
"Alexa Whitewolf's writing has grown, and it shows in this tale of self-discovery and change." - TomeTender Blog
​
"I've been waiting for this boy's story for a while and it did not disappoint!" - LiteraryDust Blog